Farm equipment needs to be more visible!
To make equipment more visible farmers can:
1. Install, replace, repair, clean, or update Slow Moving Vehicle(SMV) emblems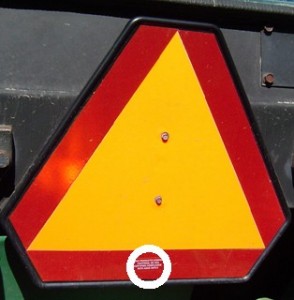 Equipment that travels

less than 25 mph

should be equipped with a clearly visible SMV emblem.
SMV emblems should be located on the rear of the vehicle as near the center of mass as possible and 2 to 6′ above ground. One point should be up

.
Look for the latest standard, by the American Society of Agricultural Engineers

(ASAE) S276.5

. Because it:
Shines 10 times brighter than older standards

Is visible up to 1200 feet compared to 600 feet for older standards

Visibility lasts twice as long

Provides greater safety

Will reduce rear-end collisions with farm equipment
A faded or damaged SMV emblem should be replaced immediately with a new emblem. Old signs should be replaced with the new standard (S276.5). Dusty and muddy signs should be cleaned.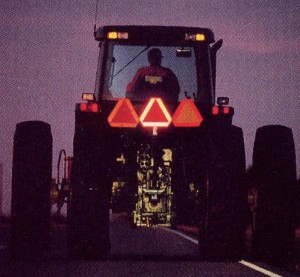 Left – new sign, old standard
Center – new sign, new standard
Right – old sign, old standard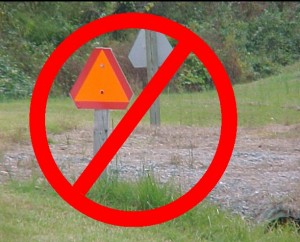 The SMV emblem indicates a vehicle traveling less than 25 mph and should not be used as a stationary marker for fences, driveways, or mail boxes.
---
2. Add reflective tapeAgricultural equipment should be marked with reflective tape that meets the ASAE S279.12 standard. These tapes have 5 times the reflective power of conventional reflective tapes.

On the back of equipment
Red retroreflective and orange fluorescent tape
strips should be mounted horizontally,
in a
side-by-side c
onfiguration. One 2 x 9 inch strip of red retroreflective material should be placed on both the far left and far right of the equipment. A 2 x 9 inch orange fluorescent strip should
be placed in a line next to each red retroreflective strip.
On the side of equipment
Yellow retroreflective strips (2 x 9 inches) should be mounted on the front and sides of the farm equipment at the corners.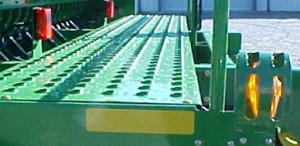 ---
3. Add high-visibility lighting
Attaching a permanently mounted strobe light to a farm tractor or implement will further alert drivers to the presence of a slow moving vehicle. Drivers are accustomed to seeing flashing lights and beacons on vehicles that require special attention.
Examples of strobe light use on farm equipment:

| | | |
| --- | --- | --- |
| | | |
| A strobe light attached to a tractor | A strobe light attached to a module builder | A strobe light attached to a boll buggy |
Be Seen and Be Safe is sponsored by the Edgecombe, Greene, Johnston, Nash, Pitt, Wayne, and Wilson Centers of the North Carolina Cooperative Extension Service and the North Carolina State Highway Patrol with funding from the North Carolina Tobacco Trust Fund Commission.